A founding father of Wesley College lives on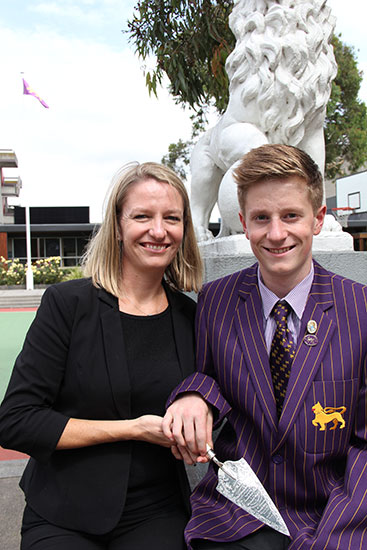 2016 is a significant year for Wesley College, marking 150 years since it opened in 1866. Reverend Daniel James Draper was one of the founding fathers of Wesley College and now 150 years later, Daniel's great-great-great-great-great grandson Callum Thorpe, has commenced at Wesley College's Glen Waverley campus. A significant heirloom held in the Draper and Thorpe families is an ornate silver trowel (Jo and Callum Thorpe are pictured above holding the trowel) inscribed with details of the opening of the Wesleyan Church in Bendigo on April 19 1859, close to 157 years ago.
---
Reverend Draper left a lasting impression on Australia through the Wesleyan Church. Born in 1810 in Hampshire England, he became a Methodist Church Minister in 1834, making the long journey to Australia by ship in 1836.
He spent over 30 years in New South Wales, South Australia and Victoria and together with Walter Powell and James Waugh, established a Methodist school that would offer a well-rounded, classical and liberal Christian education, now known as Wesley College. His training was as a builder and he was a Master Builder and his passion was for building churches.
Prior to the opening of Wesley College on 11 January 1866, Reverend Draper sailed home to England to attend a Methodist Church conference. It was on his return voyage to Australia aboard the SS London that the ship encountered storms, sinking off France and tragically, of the 263 passengers aboard, only 19 were rescued. Draper and his wife perished in the storm. He was known to keep up the spirits of the passengers during the final hours.
Callum's family hopes his education at Wesley College will be as truly well-rounded as Daniel Draper, Walter Powell and James Waugh envisaged for the students coming to Wesley College 150 years ago.